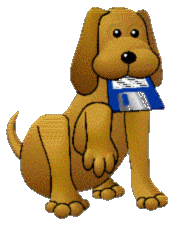 FidoNet
Zone 1
Canada
and The United States
Each member of FidoNet on the North American Continent enjoys:
A Place in the World:
There are 6 Zones in FidoNet: Zone 1: North America, Zone 2: Europe, Zone 3: Australia, Zone 4: Latin America, Zone 5: Africa and Zone 6: Asia.
A Place in Zone 1:
10 Regions, numbered 10 through 19, comprise Zone 1 in FidoNet.
Each Region within Zone 1 is unique in its geographic location, and in its "personality" and "flavor" as well. While the original regional designations were made to help keep long distance calls to a minimum throughout Zone 1, regional areas allow people of like interests and concerns to establish their part of the network, and help it to grow.
The Regions of Zone 1 are Region 10 (California), Region 11 (Illinois, Indiana, Kentucky, Michigan, Ohio, and Wisonsin), Region 12 (Eastern Canada, Ontario), Region 13 (Washington DC, Maryland, New Jersey, New York, Delaware, Pennsylvania, Virginia, West Virginia), Region 14 (Iowa, Kansas, Minnesota, Missouri, North Dakota, South Dakota, Nevada), Region 15 (Arizona, Colorado, Utah, Wyoming, New Mexico), Region 16 (Connecticut, Maine, Massachusetts, New Hampshire, Rhode Island, Vermont), Region 17 (Canada -Alberta, British Columbia, Manitoba, North West Territories,Saskatchewan,Yukon US - Oregon and Washington), Region 18 (Alabama, Florida, Georgia, Mississipi, North Carolina, Tennessee, Puerto Rico), Region 19 (Texas, Arkansas, Oklahoma, Louisiana)
A Place for my BBS system:
Each Region is made of NETs or Networks. The NET is a place where the BBS can receive mail and files (archives).
When a Bulletin Board System joins FidoNet, the SysOp (System Operator) is welcomed into a NET in his part of the country where the bbs or system exists. The NET, which has a network address, is unique in the ZONE and Region in which it resides. When a new BBS joins FidoNet, the BBS is given a unique NODENUMBER to identify it within the NET, in the form of ZONE:NET/NODENUMBER
An example of a Node number would be 1:2320/38 (Zone 1:Net 2320/node number 38)
What's Available for my BBS:
ECHO MESSAGE AREAS are most easily compared to Message Boards on the internet. ECHO MESSAGE AREAS, or ECHOMAIL AREAS as they are also called, are set up on your BBS. A BBS user enters a message in one of these areas, say the ASTRONOMY message echo, and that message is delivered to an echomail HUB. From there it goes to the FidoNet BACKBONE. Any system in FidoNet can then receive the message that was posted on your BBS.
If you would like to start your own message echo, you can contact the ECHOLIST Coordinator, Thom Lacosta. Thom is in Region 13. He maintains the list of Echomail areas in Zone 1, although these echo areas are also available in other Zones in FidoNet.
Some Nodes in the various Regions in FidoNet host various distributions for the benefit of all members of FidoNet. These volunteers collect files of a particular type, collate them and then release them into the network. Using FidoNet technology, the files arrive at your bbs system and are automatically placed on your hard drive and then your bbs file area will be automatically updated as well.
Region 11 hosts the Windows 32 file distribution network, and the Programmer's Distribution Network for example.
Regional Links
Region 10
California
Region 11
Illinois, Indiana, Kentucky, Michigan, Ohio, and Wisonsin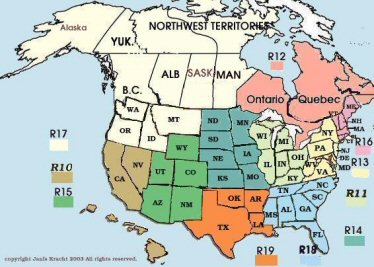 Credit for Map to Janis Kracht
Region 15
Arizona, Colorado, Utah, Wyoming, New Mexico
FidoNet Home
Thank you for visiting Please contact us with suggestions